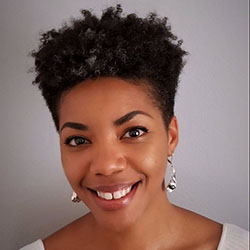 A disaster strikes, and evacuation orders are issued. But what happens if those orders don't reach people at risk?
In recent years, as fires raged in parts of California, domestic workers and groundskeepers continued to show up in affected neighborhoods, even though the residents had already cleared out. The reason? Nobody had thought to contact the many lower-income workers who came into those communities each day to earn a living.
Disadvantaged populations often suffer the consequences of poor risk communication, says Nnenia Campbell, who will be the featured speaker at the University of Maryland (UMD) civil and environmental engineering department's inaugural Diversity, Equity, and Inclusion Seminar, to be held at noon on October 20. The event, which will take place in a hybrid format with both on-site and Zoom options, is free and open to the public, though registration is requested.
A research associate at the Natural Hazards Center, deputy director of the Bill Anderson Fund, and co-founder of the Collaborative for the Social Dimensions of Disasters, Campbell has dedicated much of her recent work to exploring the intersection between disaster resilience and socioeconomic vulnerability, and to developing guidance and best practices for planners and communicators.
In her seminar presentation, "Getting the Word Out: Disaster Risk Communication Through an Equity Lens," Campbell will detail the ways in which socioeconomic environments shape exposure to and protection from disaster risks, forcing people on the margins to bear the most severe impacts. Her particular focus will be on vulnerability within the context of risk communication, with an emphasis on equity and inclusive engagement.
Too often, Campbell said, the officials charged with emergency management rely on crude, one-way methods of communication, without adequately considering who might be at the other end and what particular challenges they might face.
"Communication isn't just about warnings, isn't just about the siren that goes off. It's about establishing relationships with trusted messengers in across many different communities and addressing their needs," she said. "It should be two-way, if not multidirectional. Before finalizing the communications plan, it's important to meet with community groups—especially those representing marginalized or vulnerable populations."
Trust-building is crucial, Campbell said, because "often marginalized communities have a suspicion of outsiders, for good reason. The key is to gain credibility with the trusted messengers within that community through genuine engagement."
The DEI Seminar Series, sponsored by Whitman, Requardt, and Associates (WRA), aims to bring innovative speakers to campus to discuss their work in connection to current issues of social justice in civil and environmental engineering. The series aims to challenge the CEE community to view topics through different lenses and find creative, people-focused solutions.
The October 20 event will be moderated by Allison Reilly, assistant professor of civil and environmental engineering at UMD and a faculty affiliate of the Center for Disaster Resilience. An expert on risk and resilience in the context of infrastructure systems, Reilly has conducted research into the specific issues faced by coastal communities, including on Maryland's Eastern Shore and the Gulf Coast. She is the winner of a Gulf Coast Research Fellowship and was recently tapped for the Day One Project, which aims to formulate policy proposals on critical issues for consideration by the U.S. administration.
Following the seminar, a student workshop will be held via Zoom. For more innformation, contact Pam Lloyd at plloyd.umd.edu.
Related Articles:
Call for Input: University of Maryland Research at UN Climate Conference