Engineering and vascularizing tissues via 3D printing
Contributor: John Fisher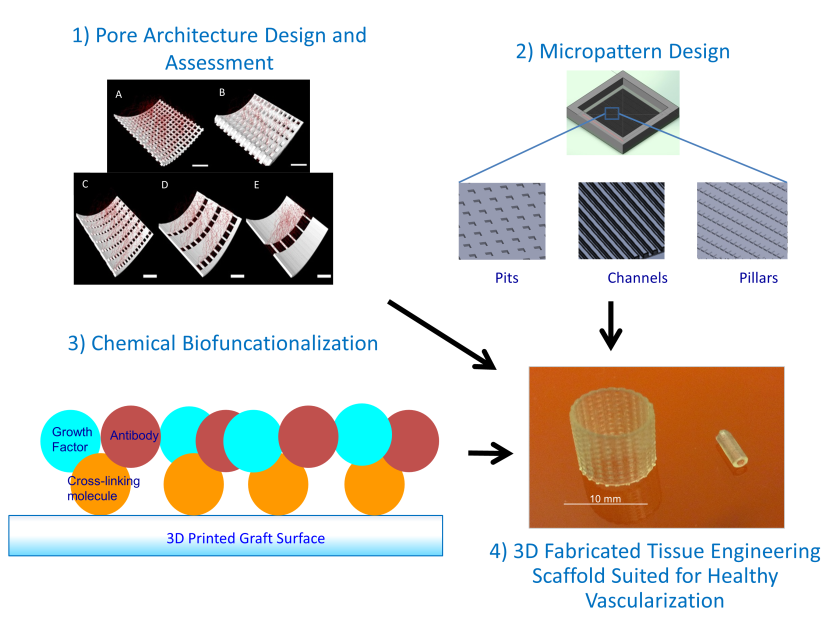 The Fisher group, in collaboration with clinicians, engineers, and researchers across various institutions, is focused on applying new biomaterial technologies to address the challenges of vascularizing tissue engineered constructs. These technologies and strategies include assessment of scaffold designs, physical surface patterning, and chemical surface modification of 3D printed tissue engineering scaffolds. The development of these vascularization techniques will enable us to support the growth of artificial organs and tissues for a variety of applications ranging from congenital heart disease to craniofacial defects.
Science Insights
Development of tissue-engineering scaffolds to promote vessel network formation through modulation of computer aided drafting designs, 3D fabrication of biodegradable polymeric scaffolds, and chemical modification of material surfaces.
Research Impact
3D printing scaffolds enables control over the design, geometry, and distribution of pores that best support extensive vascularization of the construct's interior to improve the long-term outcomes of tissue engineered constructs and artificial organs.
References